Feb. 6, 2020, 12:15 p.m.
Stafanie Taylor is ready, and she will be leading from the front!
The West Indies champion all-rounder will look to put her stamp on the global game again when he suits up for the ICC Women's World T20 2020. Our Caribbean sheroes "touched down inna de airport" in Brisbane, Australia a week ago.
They have started the training and preparation towards their curtain raiser on Saturday, February 22 at the WACA in Perth against newcomers Thailand.
So, the Jamaican is well and truly up for what is on the horizon and she recently received a boost.
The 28-year-old has seen her stocks on the rise when she was named as the Number 1 all-rounder in the One-Day International format.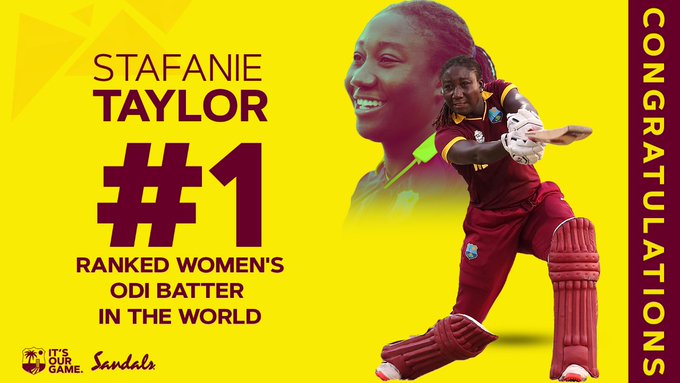 "Being ranked among the best in the world is a really good feeling. However now is not the time to step off the hard work, if anything it means I've got to work harder," she told CWI Media.
Taylor is no stranger to the big leagues, she first appeared on the world stage as a teenager back in 2008, and since them she has participated in every ICC Women's World T20 – 2009 in England, 2010 in the Caribbean, 2012 in Sri Lanka, 2014 in Bangladesh, the most memorable 2016 triumph in India, and two years ago again on home turf.
This upcoming event could be the biggest event for women's cricketers in history – with the last time the event was staged in the West Indies back in November, 2018 it was massive – huge crowds at all the preliminary matches in Guyana National Stadium and Daren Sammy Cricket Ground Saint Lucia, followed by a full sold-out for the semis and finals at the Sir Vivian Richards Cricket Ground in Antigua.
Now the Aussies are hoping to match that atmosphere and put on the "Big Dance" when the world's finest players put on a show Down Under.
SEE WEST INDIES GROUP STAGES MATCHES BELOW!
Taylor hopes to lift the trophy for the second time when the final is played at the Melbourne Cricket Ground on March 8 – with tennis legend Billie Jean King in the house and Katy Perry on stage.
-CWI